Some useful points to start your collection of Breyer horse models
What young girl hasn't dreamed about owning her very own pony or horse? It's like a right of passage. Maybe it is because of the fairy tales we have all grown up listening to our parents read to us where the beautiful princess meets her Prince Charming, who always rides in on a gallant stallion and takes her away to live happily ever after.
For those of us who are not fortunate enough to own a real horse of own, the next best thing is model horses. I am going to discuss how to create an awesome and unique collection of Breyer models so all of your dreams can come true and perhaps we start with Prince Charming's steed being a Unicorn since this is our fantasy and we can make it whatever we want!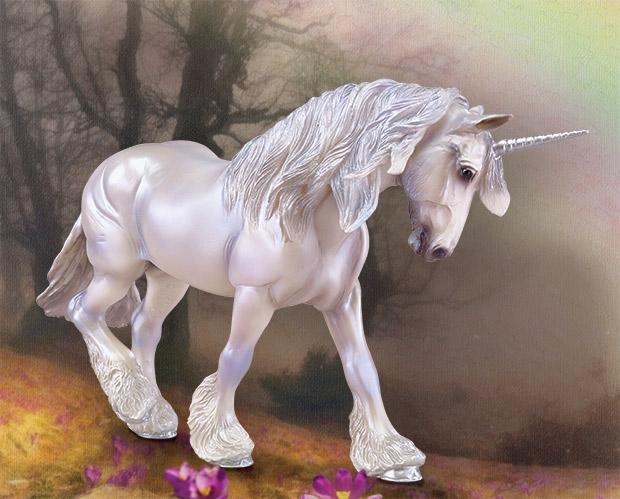 Foundation For Your Collection
There are plenty of different molds and breeds of Breyer horse models and it would be a huge and impossible task to even try to collect all of them, therefore you need to start with a game plan.
Sizes
Breyer models come in several different sizes you will need to consider when you begin your collection.
Traditional – The largest size and thus higher in price, but the selection is seemingly endless!
Classic – A mid-size model, great for the beginner and economically priced for starting a collection.
Paddock Pals – An even smaller size than Classic, great for playing with and easy to collect because there aren't as many different breeds and models.
Stablemates – Smaller than Paddock Pals, very inexpensive, many colors, breeds, models to choose from and even some awesome sets like the "Horspital" or the "Trailer Set." Just this tiny herd can take over a child's room in no time!
Minnie Whinnies – The tiniest models you can collect, inexpensive, but not good for small children due to their tiny size and the fact that children like to put things in their mouths.
Molds, Breeds, Colors, Special Runs, Limited Editions, Club Models…Oh, My!
The mold is the form used to create a particular shape or posture. If you especially like the motion, pose, tail, mane, head, body or gait of a certain Breyer mold, you could focus on tracking down every horse made from that mold. Horses from the same mold are often finished in many different colors, so you do not need to worry about a lack of variety.
You can choose to collect your favorite breed or breeds. If you like Arabians, Thoroughbreds, Draft horses, or any other breed, build your collection with those. You might even start your collection around a non-breed-related attribute like feathered feet, horses with black manes and tails or even horses of unrealistic colors. A great way to start is with a theme, like Christmas or Halloween models because they are limited in number and it's like a treasure hunt to try to find each years' model to fill out your collection.
Pricing
A Breyer horse costs on average about $50 on up for the Traditional size models, but a highly collectible model can reach $350 and higher, especially if it's a rare Limited Edition, Special Run, Breyerfest Raffle model, Premier Collector's Club, Vintage Club or a one-of-a-kind, Custom model.

Lyndsey Roi has been collecting models since the age of 6 and currently has over 600 models in her collection! She has started an Auction and Classified site just for the Breyer Horse lover where you can Place Bids on your favorite Breyer models or you can explore Classified Ads of Breyers so that you may find good deals and add to or sell your herd. You may even find your "Holy Grail," the model you have been trying to find or afford since you started your collection.