It's been a few days since Breyer revealed the Single Day Stablemates for this year's Breyerfest Celtic Fling and I am just getting a chance to look them over. This time of the year, Breyer has a way of making us all feel like we are drinking from a fire hose on full power! I can barely catch my breath with all of the announcements and reveals going on. I love it, though. It's like being in a dream that is moving at lightning speed, putting us into a horse induced coma or stupor. We are love drunk on the beautiful models and their colors and our heads are spinning from financial overload as we try to decide how much money we need to buy the models we want to haul in this year!
Have you met the four stablemates for this year's single day ticket holders? Well, let's meet them! First up we have Jersey, who was sculpted by Breyer's very own Heather Puleo, a New Jersey native. He is featured on the Walking Thoroughbred mold #5735 in a glossy, beautifully highlighted flaxen chestnut finish! He's quite the looker.
Next we have Arran, who was made exclusively for Celtic Fling taking a Traditional size mold of the Connemara Mare (#5745) and shrinking her down to the perfect size of a Stablemate. She is a fiesty gal finished in a buckskin roan to resemble the Bronze and Iron ages of the Isle of Arran, which is located off the coast of Scotland.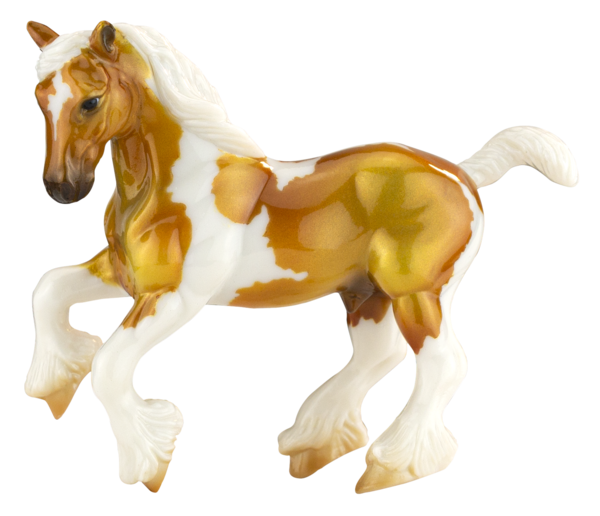 Thirdly, meet Orkney named after the archipelago off the northern coast of Scotland that contains about 70 islands, of which 20 are inhabited. He is sporting a luscious, golden palomino tobiano pinto pattern in a high gloss finish that almost makes him seem to glow like a lucky penny. He is featured on the Clydesdale mold #5604, which was sculpted by Kathleen Moody. He definitely will canter his way into your heart.
Lastly, we have Skye, oh my! All I can say is, "Wow! I love this one!" He is done on the Cantering Morgan (mold #5739) in a silver black glossy finish, which just makes him stunning to behold. Named for the largest island off of the northernmost part of Scotland, the Isle of Skye, this beauty represents the rocky coast of the island. He is sure to catch your eye.
Since Breyerfest is virtual this year, they are offering a 4 pack of single day tickets for purchase which will guarantee that you will receive one of each of these amazing models plus a Celtic Fling magnet.
Which one is your favorite?