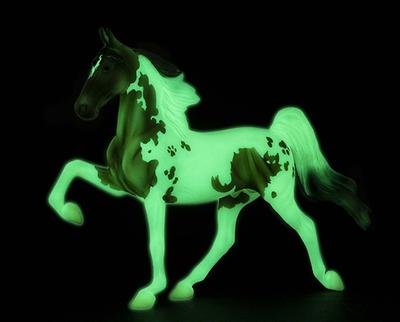 Not only is it Friday the 13th, but there's a full moon out tonight and Breyer Halloween horses are running freely through the fields! Maybe you'll be lucky, or not so lucky, to catch a glimpse of Salem, a new Freedom series model featuring scary cats and paw prints on his glowing white body and his dark pinto spots.
Perhaps you won't believe your eyes when a trio of eerie horse ghouls escape from their spooky surprise bag! You may think you are in Sleepy Hollow with these three stablemate size devils on the loose. Ichabod is covered with skulls and glows int he dark, while Calevera features brightly colored spirits of the dead and the last one is just batty! Make sure to capture all three for your collection.
Ichabod

Calevera

Bats in the Belfry
What's that I hear? The deep thundering sound of heavy hooves approaching through the corn field just beyond the fence where the jack-o-lanterns are smiling beneath the full moon…Oh, thank goodness! It's just Samhain (pronounce "Sow-en"), Breyer's traditional size Halloween beauty done on the kind draft horse model, Wixom. Named for the fall festival when the other world and this world are able to mingle with one another for one night of mischief, she will keep all of the wild spirits in check.
Act fast and capture as many of these spooky horses as you can! Be sure to visit our auction site for many sale horses, too. Be safe!