Today we are going to meet Misty of Chincoteague, a real pony who inspired many books and Breyer model horses.
Misty was foaled on July 20, 1946 at Beebe ranch on the island of Chincoteague. Her sire was the infamous Pied Piper, a handsome chestnut paint, and her dam none other than Phantom, a smokey black pinto. Misty was a palomino paint with two unique markings, one shaped like the United States on her side and a blaze shaped like the state of Virginia.
On a visit in July 1946, Marguerite Henry, famed children's author, went to Pony Penning Day for inspiration for a new book. She was fortunate enough to meet the Beebe family and Misty and her mother. She immediately offered to buy the foal. Clarence Beebe hesitated, but upon some urging from Mrs. Henry and a promise to write a book featuring his grandchildren, Paul and Maureen, he sold her for $150 and once she was weaned, he shipped her to Mrs. Henry at Mole Meadow in Wayne, Illinois.
Misty stayed with Mrs. Henry for ten years during which she made appearances for her fans at schools, libraries, museums, movie theaters and horse shows. Misty was quite the celebrity and shared a barn with Brighty, the inspiration donkey for the book, "Brighty of the Grand Canyon." The first book, "Misty of Chincoteague," was written in 1947. The second book, "Sea Star, Orphan of Chinocteague," was written after Mrs. Henry witnessed the death of an orphan foal. The third book, "Stormy, Misty's Foal," was published in 1963 and was about Misty's last foal.
Misty was sent back to the Beebe farm to have her foals in 1957. She had three total all sired by a chestnut pinto named Wings. Her foals were named Phantom Wings, Wisp O'Mist, and Stormy. She passed away in her sleep peacefully at the age of 26. A statue of her stands on the island and a duplicate statue stands at the Kentucky Horse Park in Lexington, KY. Beside the statue is a time capsule that has been buried and is due to be opened in 2046.
Misty may have given birth to three foals, but the Misty descendants are numerous and Breyer has created many models in her line: Misty, Stormy, Phantom Wings, Misty's Twilight, Misty II, Misty's Black Mist, Misty's May Day Twister and Nightmist. Breyer also created models of Sea Star and Brighty.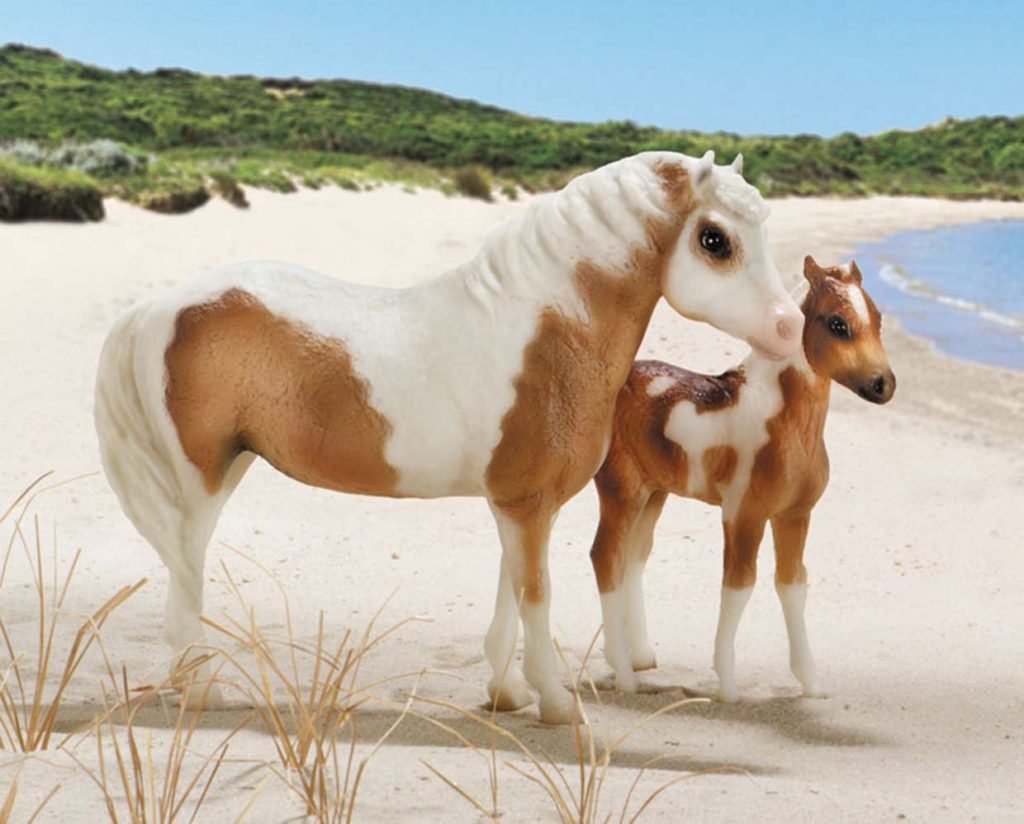 For a little pony, Misty surely inspired many books and models. Though she may be gone, Misty and her offspring live on in the hearts of adults and children today. Because of her story, everyone knows about Pony Penning Day and the little island of Chincoteague and the salt ponies that live there.