Breyer Horses Of 2022. Beautiful Breyer Horses you can see in 2022
CORA, MERMAID OF THE SEA
Unlike her land-dwelling cousins, Cora calls the sea home. When she
ventures to shore to walk along the sandy beach, her true nature remains a
part of her in the form of detailed mermaid scales that blanket her back.
SJOERD CHAMPION FRIESIAN STALLION
It is the goal of every stallion owner to create a legacy, and 2005 Friesian
Sjoerd has done just that for owner Xena Vimercati of Three Day Ranch.
The only Friesian to be named the USEF Horse of the Year.
ICELANDIC STALLION
The Icelandic horse is a breed of horse developed in Iceland.
Although the horses are small, at times pony-sized, most
registries for the Icelandic refer to it as a horse. The breed is
still used for traditional shepherding work in its native
country, as well as for leisure, showing, and racing.
Keep The Peace
A peacekeeper of his lands, Keep the Peace has a colorful metallic coat that
makes him easy to spot in the herd. After he's done making sure the
unicorns, fairies, and forest dwellers are living in harmony, this fun-loving
fellow is the first to race his friends to the meadow for a frolic!
MORGANQUEST NATIVE SUN
MORGAN WORLD CHAMPION REINING STALLION
Many breeders aspire to create their dream horse,
researching bloodlines and conformation in hopes of finding
the perfect combination. MorganQuest Native Sun, a striking
dark chestnut Morgan stallion, is one of those dreams
brought to life.
ADAMEK
The Akhal-Teke was first imported to the United States by the late Phil and
Margot Case of Shenandoah Farm. The Cases were champions of this rare
breed, and one of the horses to come from their breeding program is the
2005 stallion Adamek (Gindarkh x Agniya). The great-grandson of Olympic
Gold Medalist Abesent, Adamek's incredible bloodlines trace back to Russia
and Kazakhstan.
NISTAR BLAZING KANSAS LOM & GTF BLAZING ETHEL
Don't tell Nistar Blazing Kansas LOM that he can't do something. Standing
at 11.2 hands, "Kansas" competes in halter, trail, pleasure driving, and
carriage driving for owner Cynthia Bellis-Jones of Fox Run Farm – often
against Sporthorses much larger than him. He's been named a National
Champion in the Welsh Pony & Cob Society of America (WPCSA), Pinto
Horse Association, the United States Equestrian Federation (USEF), and the
United States Dressage Federation (USDF). His dam, the beautiful and
talented GTF Blazing Ethel owned by Wayne & Nina Sue Stark, was a
champion driving pony herself and obviously passed on her winning ways!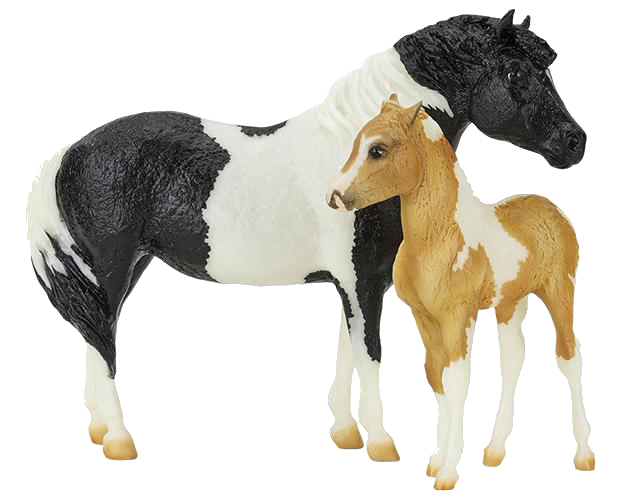 THE PHANTOM & MISTY
The sweet pair of the Phantom and Misty is presented on the Misty and
Stormy sculptures first created by artist Chris Hess in the 1970s. Making this
set even more special is that it's the first time Breyer has released a model
of the Phantom, and of Misty as a foal!